How they met-
For many years, Lilly was involved with a roller derby league in Seattle. During that time, she met a lot of great people who have since become her closest friends. One of them was Matt Everett, who Lilly met through her teammate Val. Val used to rope all her friends into volunteering for the roller derby, so Matt used to set up bleachers for bouts. Val has played matchmaker to many rollergirls, including their good friends Scott and Kelly.
It wasn't until years later that they started dating, but Lilly remembers the moment she decided she wanted Matt to be her boyfriend. It was at one of Scott and Kelly's parties, when he jumped a fence to take a dip in the neighbor's pool. Lilly saw his funny and spontaneous side and was smitten from that moment on. She's been laughing at his jokes ever since.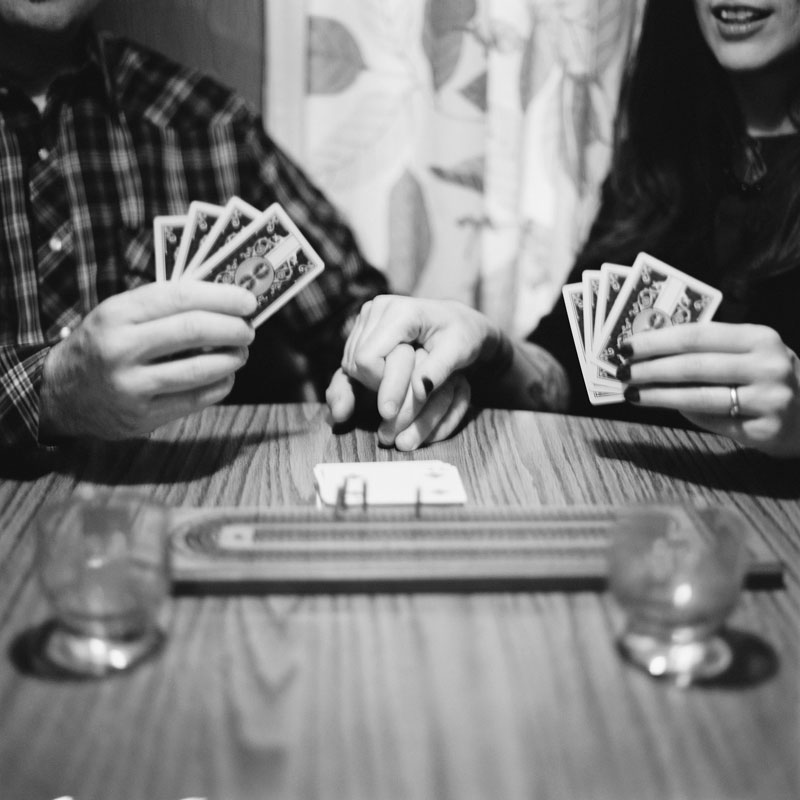 Their Engagement Story-
Matt knew Lilly wouldn't want to be proposed to in public, in front of a bunch of people, so he picked the most perfect and thoughtful way to propose. Over the years, Matt and Lilly have worked hard to turn their front yard into the beautiful and abundant garden that it is today. Matt does the hardscaping and Lilly does the planting. In the Summer, when it actually gets warm in Seattle and everything is growing, Matt and Lilly like to sit in lawn chairs and admire their work. So what better place to propose than in one of their favorite places!
On a warm sunny day at the end of June (right before Lilly's birthday), they were doing their normal thing: grilling and playing a little cribbage on the back patio. Matt asked Lilly if she could go pick some snap peas from the garden for a salad. Lilly's normal routine for picking peas involves one going into her mouth, for every two or three that make it into the bowl. As Lilly stuffed snap peas in her mouth, Matt directed her attention to another part of the garden, by asking he what she had planted there. When Lilly looked where he was pointing, she saw a little garden gnome, with a blinking light on it's head, sticking out of the bushes. Lilly thought, "Well, it is my birthday soon, maybe a friend or neighbor left me a gift!".
When she picked up the gnome, she noticed he was attached to a string. The string led to a garden bed, where whatever was on the string was buried. She pulled on the string and a box appeared. Lilly was starting to figure out what was happening and that's when Matt got on one knee and proposed.
Once Lilly said yes, of course, and caught her breath, Matt produced a bottle of champagne and a couple of champagne flutes (that were also cleverly hidden in the garden) and they toasted to their new engagement!
Photos by-
Amy Kiel Photography
To view our entire engagement set go to-
amykielphotography.pixieset.com/mattlilly/